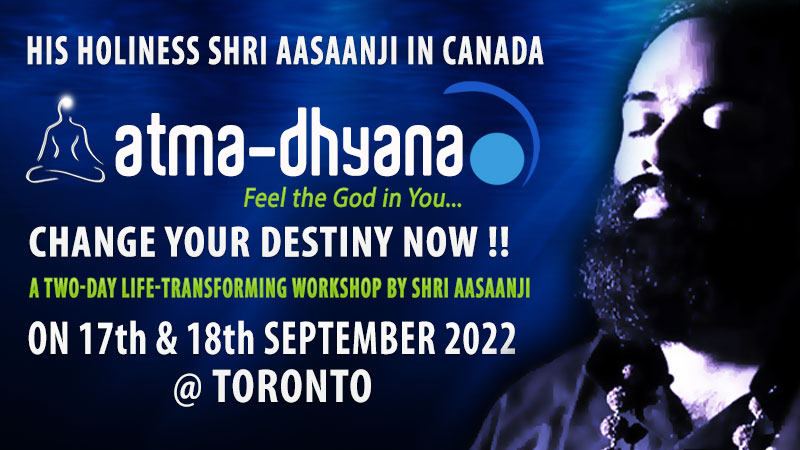 CHANGE YOUR DESTINY NOW !!
ATMA-DHYANA : Feel the God in You…
A 2-Day, Life-Transforming Workshop by His Holiness Shri Aasaanji
His Holiness Shri Aasaanji is a World Renowned, Non-Religious, Contemporary Spiritual Teacher and a Living Master of Inner-Science & Self Transformation. Many refer to him as "New Age Mystic" & for over a Decade, Millions of People across the Globe have Transformed their Lives through his Divine Presence & Powerful Teachings
ULTIMATE POWER TO RE-WRITE YOUR DESTINY FULL OF PERSONAL & FINANCIAL SUCCESS !!
LEARN THE ULTIMATE POWER TO REMOVE YOUR NEGATIVE KARMA AND GIFT YOURSELF A NEW LIFE ! A NEW BEGINNING !! FREE OF STRESS AND FULL OF PEACE, SUCCESS & HAPPINESS !!
WAIT NO MORE…A GREAT CHANCE TO RE-WRITE YOUR FUTURE FULL OF PERSONAL & FINANCIAL SUCCESS !!
The Most Powerful Meditation & Inner transformation technique to create Ever-lasting Peace & Success in all aspects of Life, (Health, Money & Relationship) Effortlessly
CREATE A LIFE YOU (REALLY ) WANT TO LIVE !!
———————————————–
FOR MORE DETAILS & TESTIMONIAL
Visit : www.atmayoga.in
ON 17th & 18th SEPTEMBER 2022
COURTYARD BY MARRIOTT OSHAWA
1011 BLOOR STREET EAST, OSHAWA, ONTARIO, CANADA, L1H 7K6
INVESTMENT : 499 CAD
(Refreshment, Stationery, Parking and Lunch included)
LIMITED SEATS | ENTRY BY REGISTRATION

After making the payment, you may kindly mail us the transaction details to events@ihfoundation.ca, we shall confirm your registration and seats upon receiving your mail.
For More Details & Registration, Call: +1 (416) 991-6060
Don't Miss it ! This will Change your Life !!