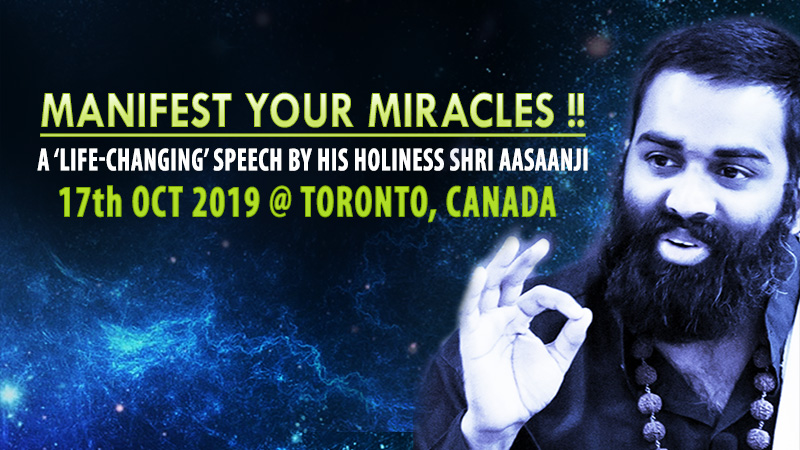 MANIFEST YOUR MIRACLES !!
END OF ALL SUFFERING !!
Untold Secrets to Transform your Life Full of Peace, Success & Happiness !!
His Holiness Shri Aasaanji is a World Renowned, Non-Religious, Contemporary Spiritual Teacher and a Living Master of Inner-Science & Self Transformation. Many refer to him as "New Age Mystic" & for over a Decade, Millions of People across the Globe have Transformed their Lives through his Divine Presence & Powerful Teachings
This is not a Motivational Talk.
This is a Rare Opportunity to Transform your Life !!
A MUST ATTEND FOR ANYONE SEEKING EVERLASTING PEACE , SUCCESS & HAPPINESS !!
DON'T MISS IT ! THIS WILL CHANGE YOUR LIFE !!
———————————————–
FOR MORE DETAILS & TESTIMONIAL
Visit : www.atmayoga.in
On 17th OCTOBER 2019, THURSDAY FROM 7.00 PM to 9.00 PM
BLOOR STREET UNITED CHURCH
300 Bloor St W, Toronto, ON M5S 1W3, Canada
ENTRY FEE : CAD $ 20/- only
Limited Seats | Entry by Registration | Door Closes by 6.45 pm
After making the payment, you may kindly mail us the transaction details to events@ihfoundation.ca, we shall confirm your registration and seats upon receiving your mail.
For More Details & Registration,
Call / WhatsApp: +1 (416) 991-6060
Don't Miss it ! This will Change your Life !!