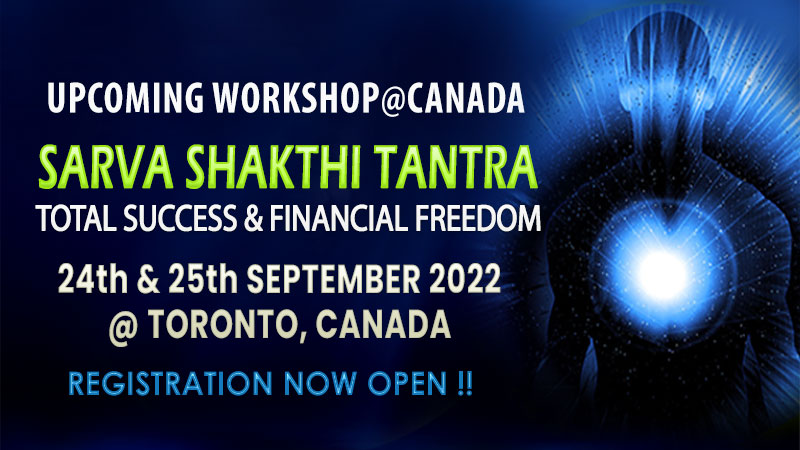 TOTAL SUCCESS & FINANCIAL FREEDOM
THIS SARVA SHAKTHI TANTRA FALLING ON AMAVASYA IS A LIFE-TIME OPPORTUNITY !!
THE ULTIMATE POWER FOR TOTAL SUCCESS & FINANCIAL FREEDOM !!
AN ADVANCED & MOST POWERFUL "LIFE-CHANGING" 2-DAY EXPERIENTIAL WORKSHOP ON 'INVISIBLE POWERS,MIRACLES & MANIFESTATION' !!
(ONLY FOR ATMA-DHYANA PRACTITIONERS)
THE REAL METHOD TO RAISE YOUR POWER FOR ULTIMATE ONENESS & TOTAL TRANSFORMATION !!
Learn The Most Powerful (Meditation) Method to Experience Real Shift & Raise Your-self to the Next Level of Divine Consciousness for Total Transformation
WAIT NO MORE…GET READY TO UNLOCK & UNLEASH A NEW LIFE…NEW BEGINNING !!
Experience Powerful Science to Remove Your Energy Block & Create A Life You (Really) Want to Live, Full Of Personal & Financial Success!!
DON'T MISS IT… THE LIFE YOU WANT TO LIVE IS NO MORE A DREAM !!
———————————————–
FOR MORE DETAILS & TESTIMONIAL
Visit : www.atmayoga.in
ON 24th & 25th SEPTEMBER 2022
9.30 am – 6.00 pm
COURTYARD BY MARRIOTT OSHAWA
1011 BLOOR STREET EAST, OSHAWA, ONTARIO, CANADA, L1H 7K6
FOR MORE DETAILS & REGISTRATION
Call /WhatsApp : +1 (416) 991- 6060
Don't Miss it ! This will Change your Life !!