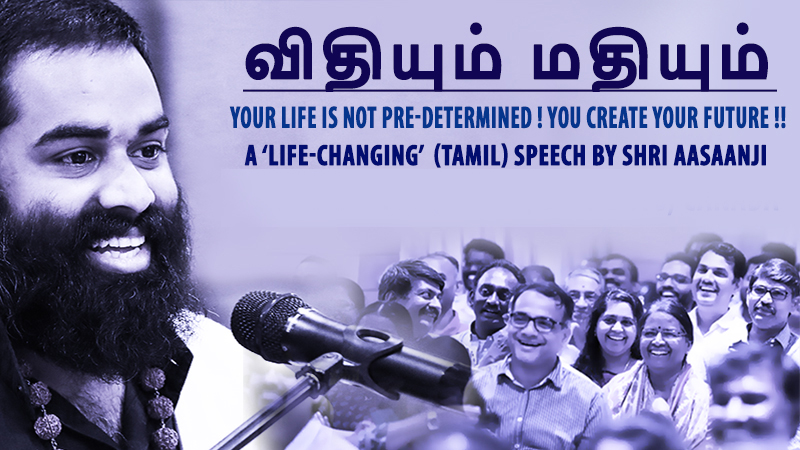 விதியும் மதியும்
உன் வாழ்வை மாற்றும் அற்புத உண்மைகள்!!
YOUR LIFE IS NOT PRE-DETERMINED ! YOU CREATE YOUR FUTURE !!
AN AWAKENING SPECIAL TAMIL PROGRAM BY HIS HOLINESS SHRI AASAANJI !!
THE ULTIMATE TRUTH OF EVERY (HOLY) SCRIPTURES…YOU ARE THE (ONLY) MASTER OF YOUR DESTINY !!
His Holiness Shri Aasaanji is a World Renowned, Non-Religious,  Contemporary Spiritual Teacher and a Living Master of Inner-Science & Self Transformation. Many refer to him as "New Age Mystic" & for over a Decade, Millions of People across the Globe have Transformed their Lives through his Divine Presence & Powerful Teachings
This is not a Motivational Talk.
This is a Rare Opportunity to Transform your Life !!
A MUST ATTEND FOR ANYONE SEEKING EVERLASTING PEACE , SUCCESS & HAPPINESS !!
DON'T MISS IT ! THIS WILL CHANGE YOUR LIFE !!
———————————————–
FOR MORE DETAILS & TESTIMONIAL
Visit : www.atmayoga.in
DATE WILL BE CONFIRMED SOON
Delta Hotels by Marriott Toronto East
2035 Kennedy Rd, Toronto, ON M1T 3G2, Canada
ENTRY FEE : 20 $ CAD
Limited Seats | Entry by Registration | Door Closes by 6.45 pm

After making the payment, you may kindly mail us the transaction details to events@ihfoundation.ca, we shall confirm your registration and seats upon receiving your mail.
For More Details & Registration,
Call / WhatsApp: +1 (416) 991-6060
Don't Miss it ! This will Change your Life !!